Join us Saturday, May 8th @ Martin House Brewing for a rowdy backyard hangout consisting of over 20 craft beers & burger themed food trucks.

Read More »
We are currently changing and updating our taproom hours week by week, so be sure to hop on our Facebook or Instagram page for the latest hours. You can of course message us on either platform as well. 
If you're looking for tickets to our 8 Years: Burgers and Beers event, then just click here to buy tickets!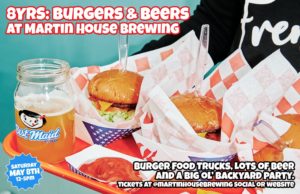 Our beer releases follow three paths. Year round, seasonal / special releases, and taproom only beers. Catch the seasonal and taproom only beers while you can as they might never come back. The year round beers are below. Find our beer.
Enjoy our beers at the taproom or at any of these fine locations.
Drive, Kayak, Bus, Bike, Walk, Hitch hike, Somersault, or however you prefer to travel. We'll see you here!
Update
The taproom is open from 12-7pm daily for TAKE HOME PURCHASES ONLY. Tours are on hold until conditions allow resumption.
To-go only until further notice. We are open 12-7pm every day. No online ordering needed. Just walk in, head to the cooler in the back, and we'll take care of you. All beer must be taken to go and consumed off site.
No brewery tours at the moment. We can't wait to open back up for you guys!
Get a heads up whenever we release a limited beer.